David was born in February 1942 in Kettering, Northhants. 
He married Margaret on the 26th of June 1999 at St Ismael's church in Rosemarket. Margaret was born in Solva, and they lived for a time in Freystrop before moving in 2000 to Lucy Walters Close in Rosemarket.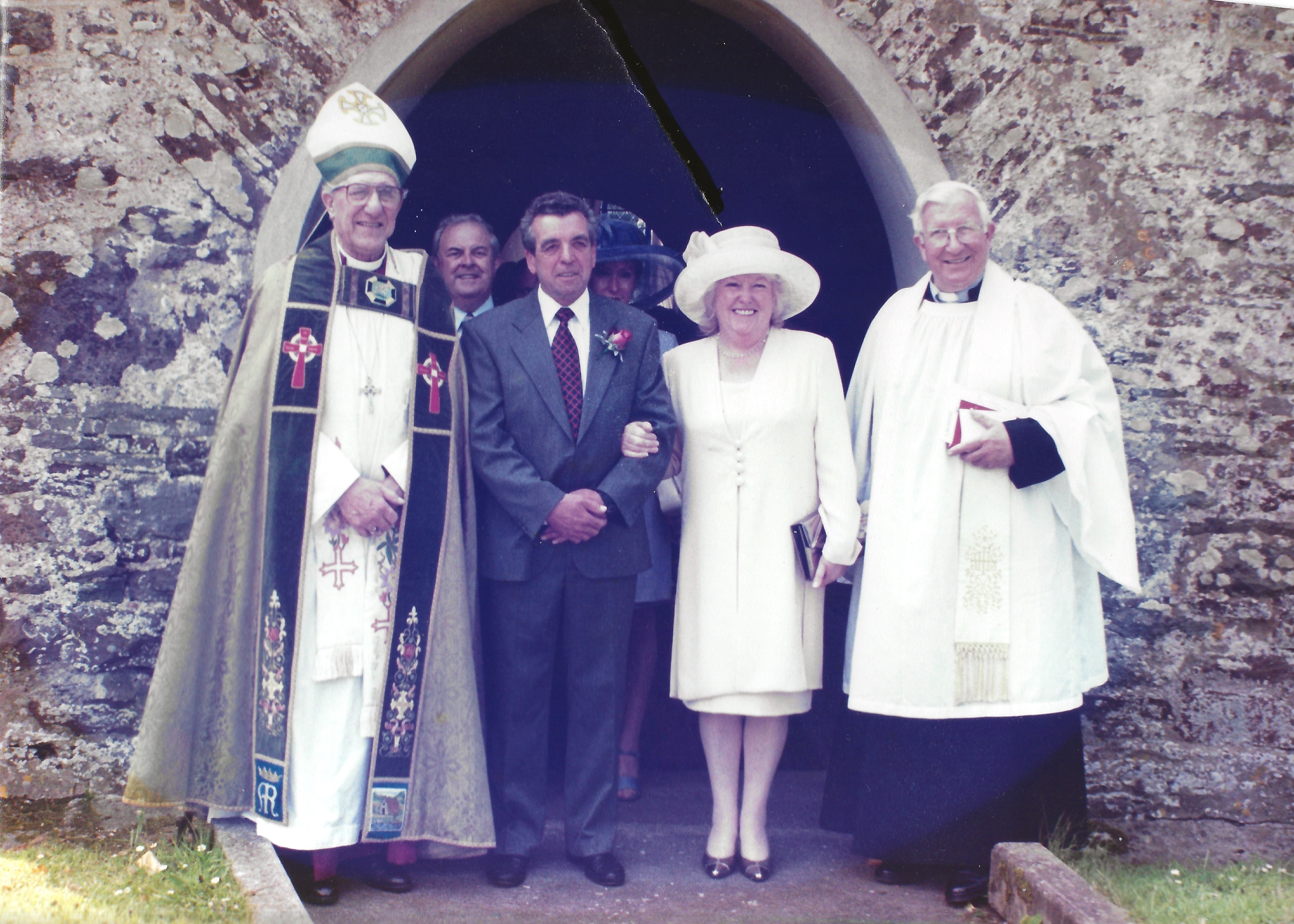 David and Margaret's wedding at St Ismael's church, Rosemarket 
David held many roles within Rosemarket as well as with organisations across Pembrokeshire, always striving to help the local community. David was retired when he stood for election to be a councillor and put in a lot of work while in his post which was almost a 24/7 job.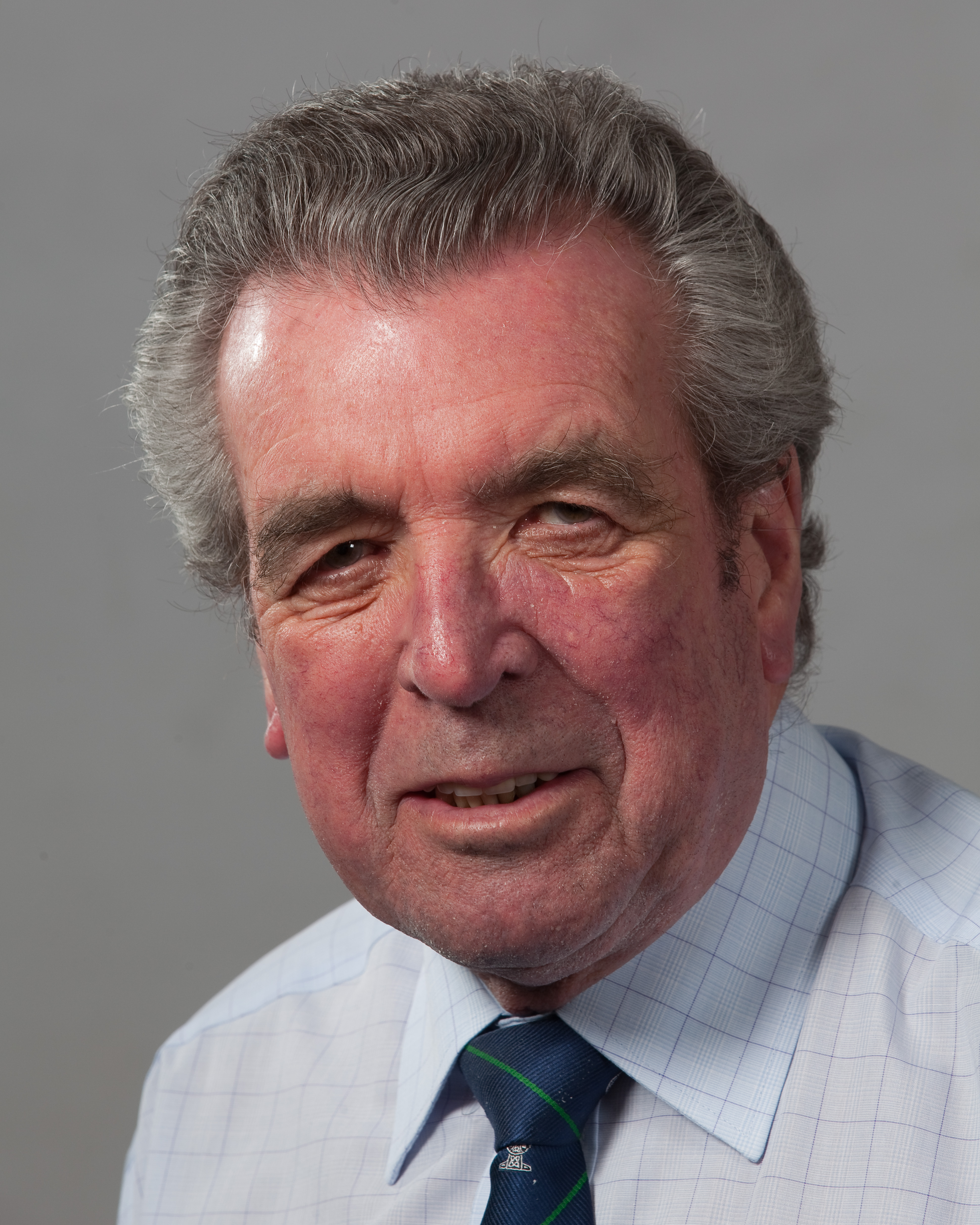 David says that he couldn't have done it without the support of his wife Margaret, who was also involved in the community. He says that she was the driving force behind most of the fundraising. 
David was a member of Rosemarket Community Council, and was an attendee at Burton Community Council. 
David produced the Community Newsletter, Keep in Touch which consisted of approximately 28 – 34 pages and was published 3 to 4 times a year. David initially edited, funded and delivered these newsletters with Margaret.  Delivering them was no small task, given that the large area covered by the newsletter which included every household in Rosemarket, Burton and the surrounding areas! Funding to help support 'In Touch' was eventually provided by both Community Councils and a network of volunteers helped deliver the magazine for many years. 
We are periodically putting these old newsletters up on this Website (and they are a great read!).   
David committed himself to his work before he resigned from all posts on 28th February 2013, after which he then relocated to Wiltshire for family reasons.  
The following is a list of his career whilst living in Pembrokeshire:
Pembrokeshire County Councillor (1999 – 2013)
Cabinet Member – Adult Services & Care (2004 – 2013)
Older persons Champion
Chair Older Persons Strategy Group
Chair NSF Steering Group
Chair Good Neighbour Scheme Project Board
Chair Adult Co-ordinating committee (Recently amalgamated with PIZZA Group)
Member Pembrokeshire Strategic Partnership Board
Vice Chair Corporate Governance Committee
Member Senior Staffing Committee
Member Employee Liaison Committee
Member Voluntary Sector Liaison Committee
Member Age Concern Executive
Member Physically Impaired People of Pembrokeshire Committee (Hon. Vice President)
Member SHAPES (Community Equipment) Board
Member Care & Repair Board (Chair 3 years)
Member Older Persons Mental Health Strategy Group
Member Food & Health Strategy Group
Member Falls Prevention Group
Member Adult Protection Committee
Chair Southwest Area Liaison Group
Member Welsh Local Government Association
Member Social Services Policy Group (WLGA)
Member Data Unit Board
Member Joint Council for Wales
Member Reserve Forces & Cadets Association for Wales
Vice Chairman Local Health Board                      
Chairman LHB Governance Committee               
Member LHB Clinical Governance Committee
These ceased on the 30th September 2009
Board Member Hywel Dda Health Board – Since June 2010
Older Persons Champion & Dignity & Respect Champion
Chair Safeguarding Board
Attend in Advisory Role: - Older Persons Health & Well-Being Overview & Scrutiny Committee
Previous planning group involvement: South Pembrokeshire Hospital
De-Clare Court Extra Care Scheme
Gave Presentations/ talks on regular basis:
Cabinet – NSF, OPSG,
50+ Forums
Lunch Clubs
Other Groups – Crossroads – Carers groups etc
Chair of the Annual Older Persons Conference (5 No )
Launch new ventures i.e., Prime Cymru, Older Persons Awareness Day
Regularly visit Day Centres and Care Homes
Meals on Wheels deliveries
Attended all AGM's when free i.e., MAP, Mind, Crossroads, Paul Sartori, etc
Regularly put on charity events in community 4 – 5 times a year.
Regularly put-on fund-raising events for St Non's Ward Withybush (Mental Health) something like £40,000.00 raised in total
Governor of Burton School and Llangwm School
Rosemarket Parochial Church Council Member
Rosemarket Village Hall Treasurer
Burton Luncheon Club Treasurer