Whilst there is no longer a cricket team in the village, the tradition of Rosemarket cricket dates back to the nineteenth century. According to records held by the Museum of Welsh Cricket, Rosemarket Cricket Club was formed during the 1860s with the first games on record being reported in the Pembrokeshire Herald newspaper in 1866. On the 25th September that year, Rosemarket played at Haverfordwest (Portfield) against the town's Grammar School and a return match at Burton on 11th October. The earliest records held show a team for Rosemarket School from 1891.
In May 1894, Rosemarket School played a seven-a-side two innings game against Burton School. Rosemarket was victorious by seventeen runs. Games were played on The Beacon using equipment given by Sir Owen Scourfield.
Rosemarket also fielded a village 'eleven' before the turn of the century. When Thomas Atterbury-Thomas became vicar in 1903, he organised matches against Laugharne where his brother was vicar. The team left by horse and cart at midday after completing a morning's work.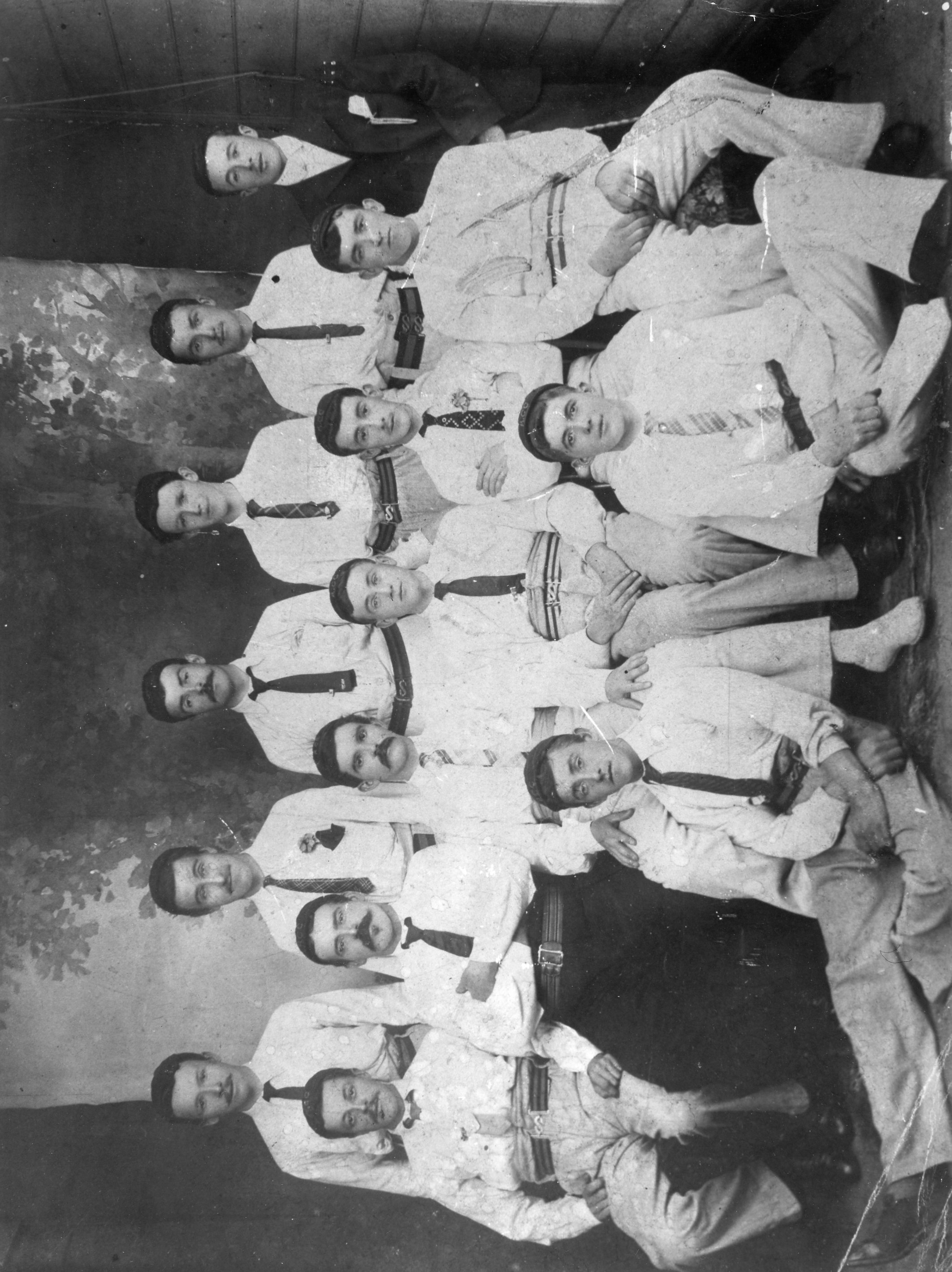 Rosemarket Cricket team, early 1900s
A 'Westfield' cricket team was later formed by a local family and other parish farmers. It was during the late 1940s that the club became more formally known as Rosemarket Cricket Club. Details are sketchy with few records remaining. A Minutes book for Rosemarket Cricket Club from 1948 is held at Pembrokeshire Archives. The first entry in that book states that "a general meeting was held in Rosemarket Village Hall on Monday night 2nd February 1948 at 7.45pm with a view of forming a cricket team". Rosemarket Local History Society is reviewing the content of the book as part of our research and will publish further insights on an ongoing basis.
League and Cup success
In 1968, promotion was gained to the Second Division and in 1970, Division One status was achieved. Rosemarket was believed to be one of the original entrants for the village cup competition in 1971.
Rosemarket won the Ormond Youth Cup four times. Pembroke County Cricket Club records show that Rosemarket first won it in 1965, beating Pembroke. They won it again the following year, this time beating Carew. Carew then dominated the competition by winning five of the next seven years, until Rosemarket beat them to win the Cup again in 1974. Rosemarket won the Cup a final time in 1976, this time beating Neyland. 
In 1977, Rosemarket reached the Harrison-Allen Bowl Final, which was played at Cresselly Cricket Ground on Saturday, 30th July that year. They lost to Llangwm on that occasion.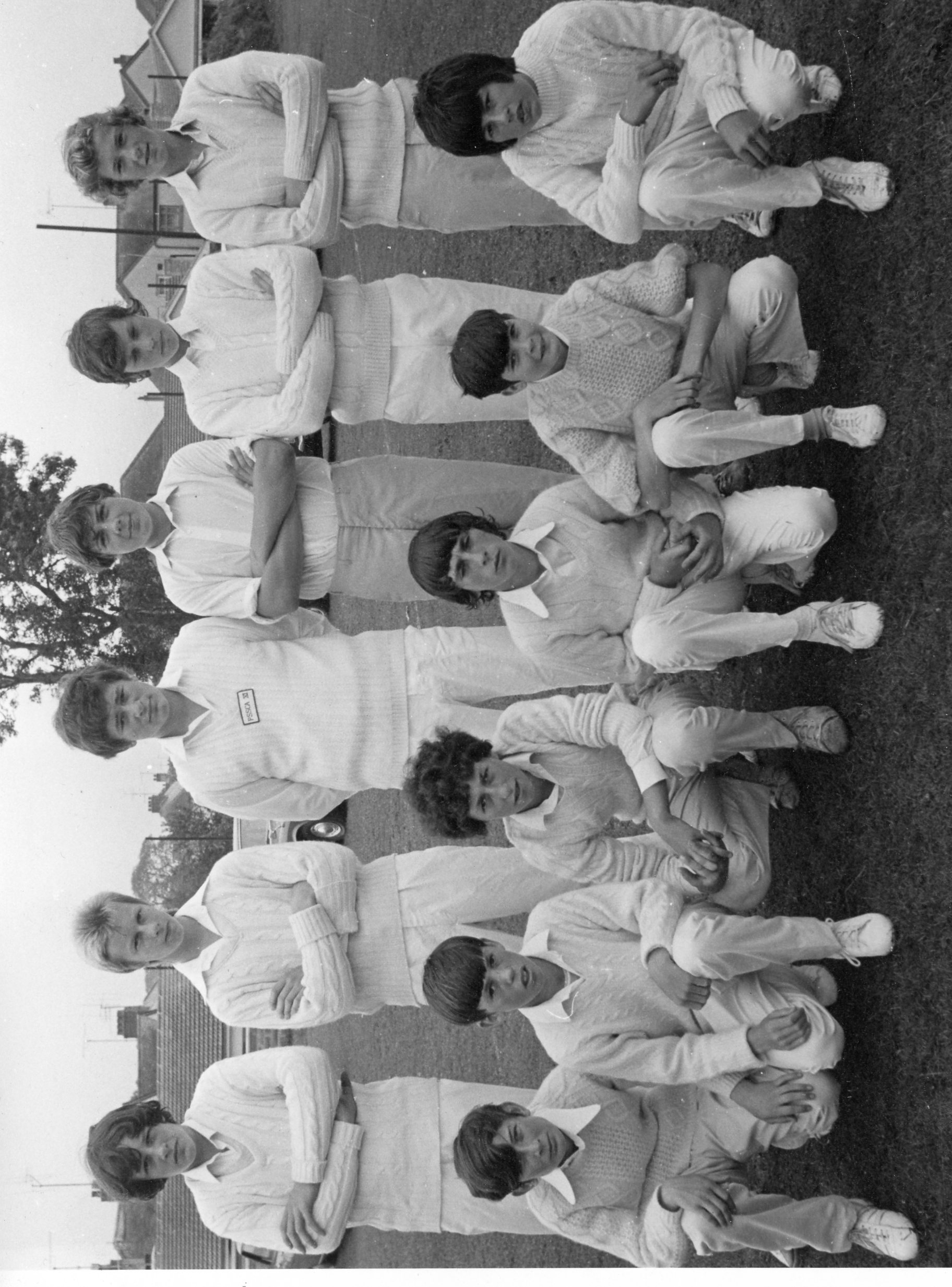 Ormond Youth Cup Winners 1974
Standing: Gary Downes, Steven Barnes (Vice Captain), Rob Summons (Captain), Malcolm Slater, Gary Jenkins, Graham Richards
Front row: Keith Sutton, Paul Goodridge, Neil Adams, Robert Devonald, Richard Sutton, Martyn Rees
Many Rosemarket families had members that played for Rosemarket Cricket Club, sometimes more than one at the same time. Two brothers for example, were included in the 1974 Cup winning team pictured above - Keith and Richard Sutton. The talent for cricket continued through the Sutton family, with their nephews Stephen and Mark Sutton playing cricket for Neyland in the late 1980s (by which time, Rosemarket Cricket Club had been disbanded).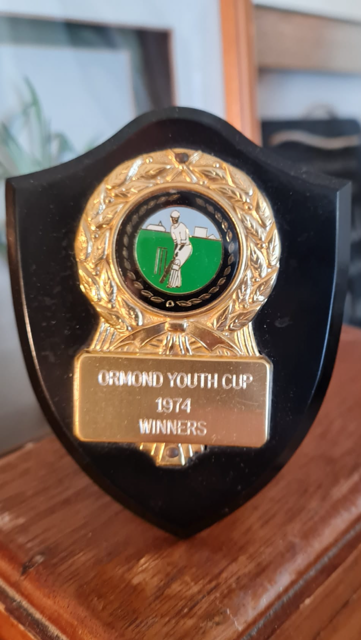 Ormond Youth Cup trophy 1974
Cup winning match ball
After one of the Ormond Youth Cup final wins (actual match not known), Rosemarket resident and supporter of the cricket club, Teddy Coomber, handcrafted a wooden goblet and display block for the match ball. He presented it to Rosemarket Cricket Club, and it survives to this day.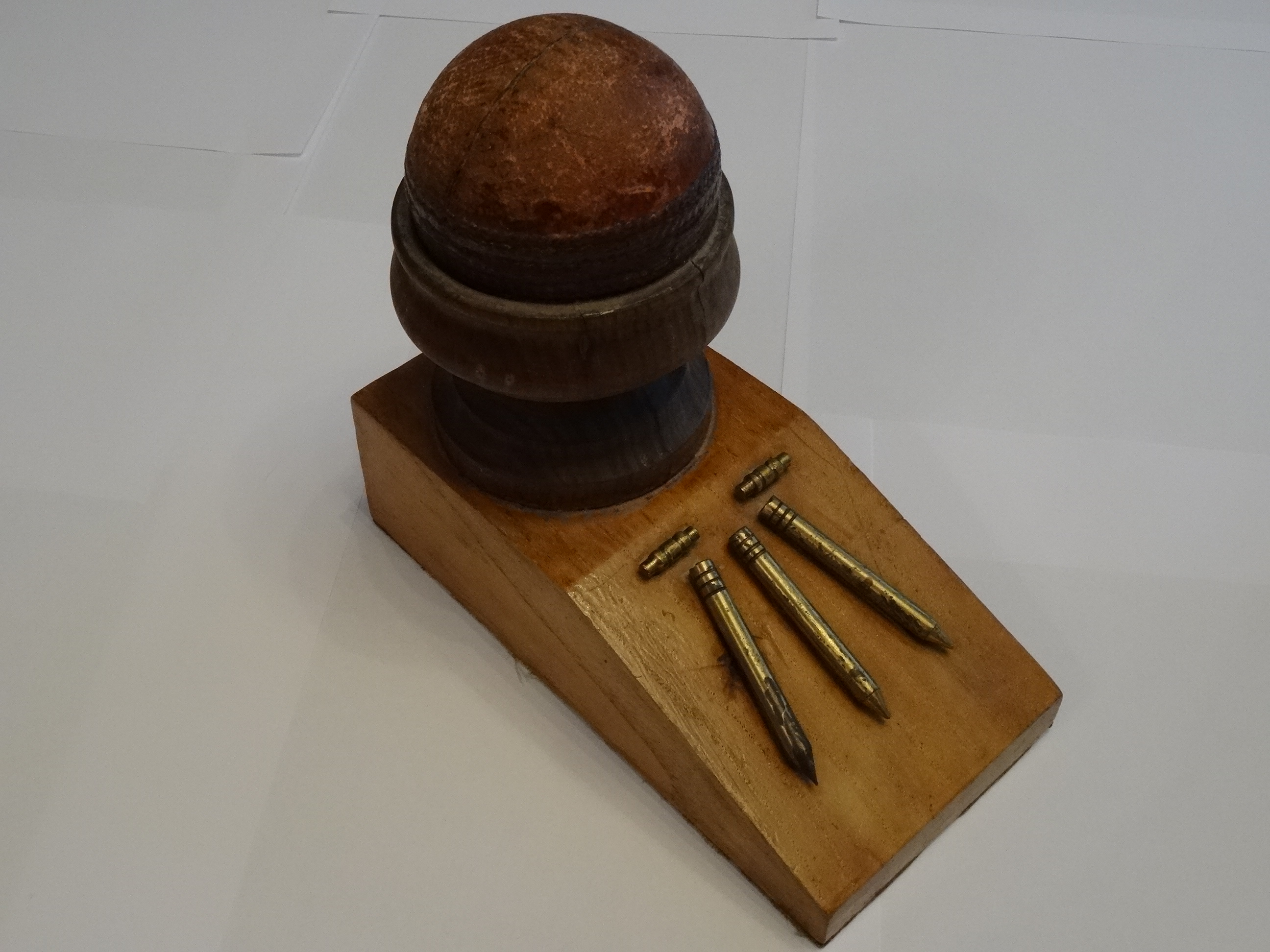 Cup-winning match ball from Ormond Youth Cup final, Rosemarket Cricket Club
Memories of a team captain
Bill Marchant, a resident of Rosemarket for over 60 years, recalls his time as wicket keeper and Captain of Rosemarket Cricket Club. When Bill joined the team around 1962, they played on farmland on the outskirts of the village (off the road to Sardis, near the original vicarage up on a hill). The land was owned by the Church of Wales and leased to a local farmer who was a "big character" in the village, Humphrey Morris. He kindly offered Rosemarket Cricket Club free of charge use of the top half of a field he leased, whilst he farmed the bottom half. Humphrey Morris was a big supporter of the cricket club, playing the occasional match with the team, although it is thought he preferred snooker to cricket, often playing with villagers, including Bill.
Throughout the 1960s and 1970s, Rosemarket Cricket Club mostly played their home matches at this site. Bill recalls that there were one or two years that they played their home matches elsewhere, due to the land being needed for farm use.
A timber club house / pavilion was erected on the site, constructed by locals and players of the time, using materials donated by one of the oil refineries at the Port of Milford Haven.
The team photo below is believed to have been taken during one such period, at Milford Haven. Whilst not dated, it is believed the photo was taken during the late 1960s.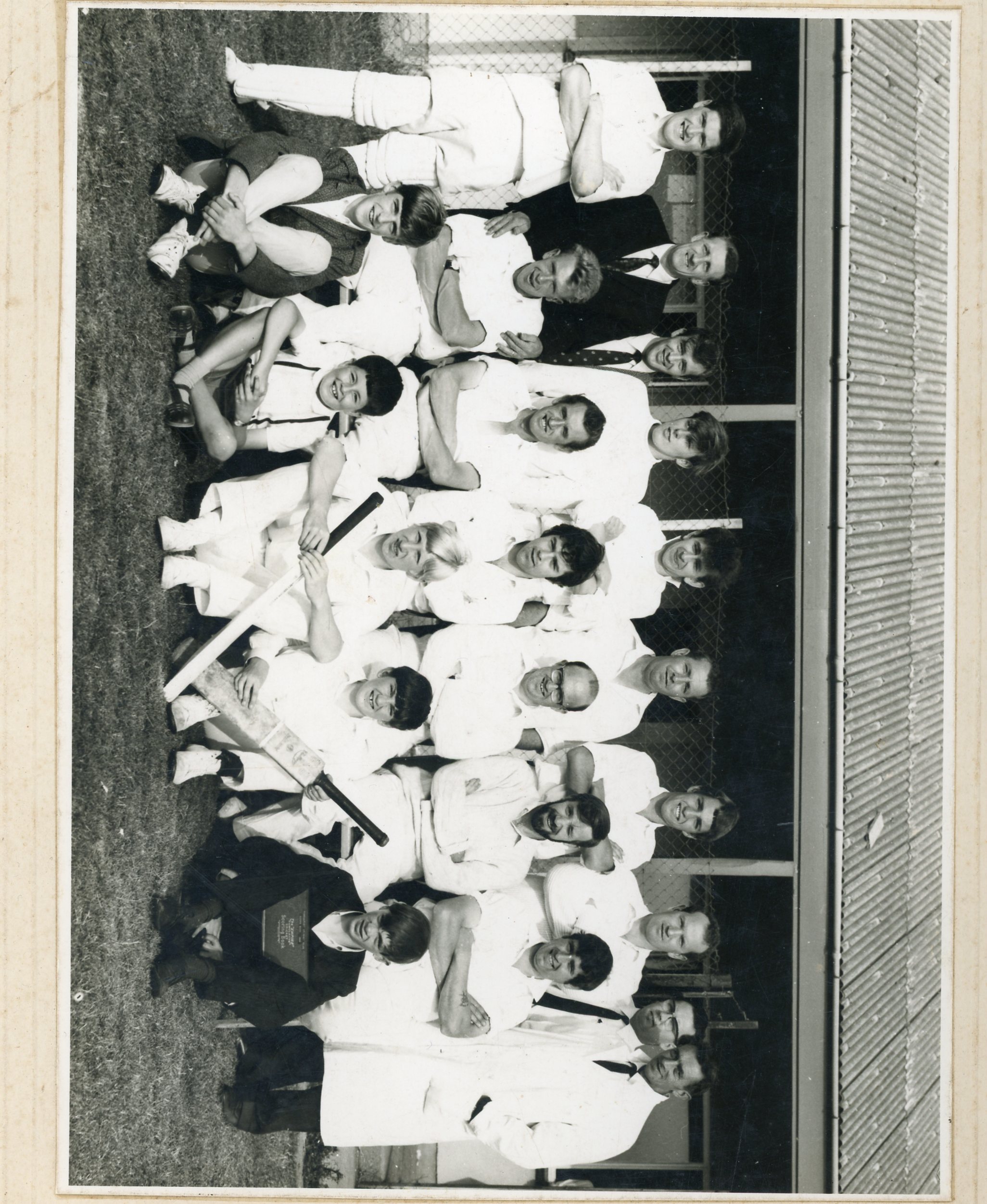 Group shot of Rosemarket cricket team, late 1960s
Back row: William (Bill) Marchant; Leslie John; Bryn Lewis; Ron Bryant; Russell Baynham; Cecil Rees; A Davies; Mervyn Davies; Fred Dow; William/Billy George Mathias
Seated: Dougie Davies; Haydn Davies; Jack Capon; Geoff Nicolle; Lance Murphy; J Ambrey
Seated on ground: Peter Fowler; Martyn Rees; S Matthias; Phillip Dow; Paul John
Three brothers were included in this team: Haydn, Mervyn and Dougie Davies. Dougie, the youngest, talks fondly of his time with Rosemarket Cricket Club and remembers Humphrey Morris as "a great bloke". Dougie has lived in Rosemarket all his life, working on the farm for Humphrey in his cricket days and often playing snooker with him.
Jack Capon also played county cricket and was very highly regarded by colleagues and supporters alike. Jack sadly passed away in 2016.
His wife Christine, also a keen supporter of local cricket, continued living at the family home in Rosemarket until she too sadly passed away in June 2022. Their son is Welsh cricketer, Ian Capon.
Match days
There was a caravan on site, next to the club house. This was used by the Away team to change in before and after the matches. Rosemarket team players were expected to arrive in their kit ready to play (to enable the Away team to use the caravan). Players were responsible for their own kit.
Tea and sandwiches were prepared and served by many of the players' wives, including Bill's wife, Jill, and Russell Baynham's wife, Pam, and Jack Capon's wife, Christine.
Villagers came to watch the matches. Bill and Dougie recall about 20 spectators for league games, with 40-50 people attending cup games. Some of these would have been supporters of the Away team.
After the matches, both teams would go to The Huntsman Inn public house together.
End of an era
During the 1980s, the situation with the land on which the cricket pitch was located, changed. Bill Marchant recalls that the Church of Wales introduced rents for Rosemarket Cricket Club. Finances were tight but the club was able to afford the rent in the first year, but not after that and eventually, the club ceased. The local vicar at the time, Rev. John Hale was very supportive of Rosemarket Cricket Club and tried to convince the Church of Wales not to impose the rents, believing that the village needed a cricket team.
When the club disbanded in the late 1980s, they donated all their kit and equipment (including the score board) to the village school and various cricket clubs around Pembrokeshire. The club house was eventually demolished. Local newspapers covered the events, as some recently discovered cuttings in a scrapbook have shown. (Research continues but more detail on these cuttings can be found by clicking HERE).
The end of Rosemarket Cricket Club didn't end Bill Marchant's involvement in cricket however. He held the prestigious role of Secretary of Pembroke County Cricket Club for almost 30 years, before retiring in February 2012.