Getting mail to and from Rosemarket was once a complicated procedure. In 1807, Pembroke mail came by horse post from Narberth. The ferry to Neyland linked Pembroke with Haverfordwest. It is assumed there was a Rosemarket link if necessary.
In the 1840s and following the establishment of the Penny Post, Rosemarket's letters came via Milford Haven.
The 1861 census shows that Rosemarket had a Post Office in a grocer's shop in Middle Street, kept by May Williams. In 1868 however, it was recommended that it be closed and a wall box substituted at a saving of three pounds a year.
The 1890s saw the establishment of Rosemarket Post Office, a sub-office of Pembroke Dock, as a 'Money Order and Savings Bank Office'. The Archive of Welsh Postal History has this recorded as being in 1896.
By 1910, a Post Office was located in West Street, Rosemarket, and was linked to the Neyland Office. It is believed that this was actually the same building referred to above as being in Middle Street. There has been some inconsistency and lack of clarity over the years with road names at the lower end of the village – specifically where Middle Street ends and West Street begins.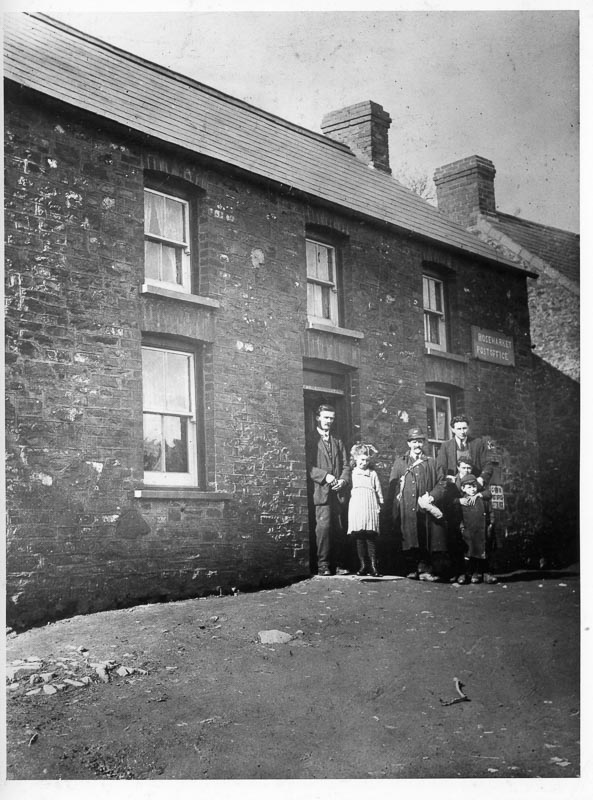 Two (A6 sized) postcards from this period have recently been uncovered by a Rosemarket resident. One features the above photo and is blank on the reverse. The other features an image of the village looking up West Street from its junction with Middle Street and is addressed to Mr James Phillips of Haverfordwest. It is postmarked 26th July 1907.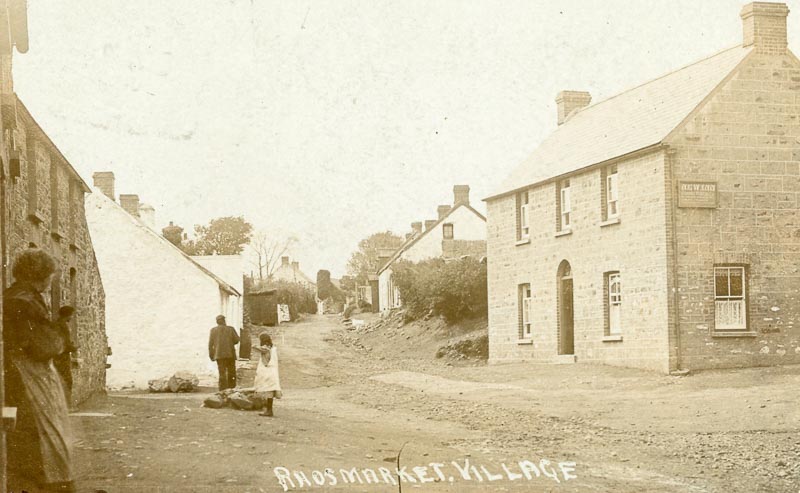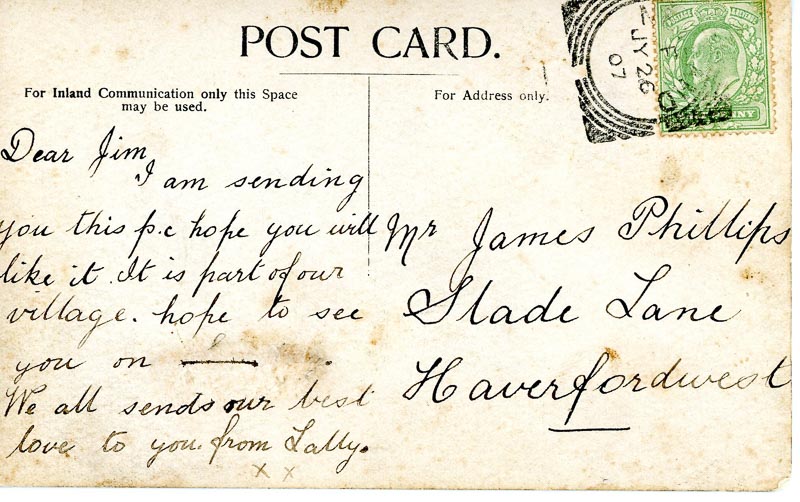 Insights from the Welsh Postal History Society
Professor Cedric Prys-Roberts of the Welsh Postal History Society has provided some interesting details about Rosemarket Post Office. He explained that when the Post Office re-opened in 1896, the postmaster should have been issued with a 'Climax' rubber hand stamp. James Mackay published a list and illustrations of every post office in England and Wales that had received one. Professor Prys-Roberts has consulted that book and strangely there is no evidence that a rubber hand stamp was issued to Rosemarket (or Rhosfarced). The rubber hand stamps were initially issued for the purpose of franking postal orders or parcel post labels, and they were only permitted for franking mail in 1905. Professor Prys-Roberts believes it is possible that Rosemarket was issued a rubber hand stamp after 1905 (they remained in use until the 1930s), but none has been recorded.
Interestingly, Professor Prys-Roberts advised that Rosemarket was issued with an undated steel postmark on the 8th November 1849, under Milford Haven, but there is no record of its use in a book by Roger Broomfield entitled 'The undated postmarks of Wales 1840 -1860', published by the Welsh Philatelic Society.
The uncovering of any letter or postcard with a Rosemarket postmark would therefore be quite a find, and one that the Welsh Postal History Society would be very interested in.
Changing times
As the years progressed, a village shop was incorporated in the same building under various ownerships, including Mr W. G. Davies, who was also a member of the Rosemarket Welcome Home Committee after the Second World War.
James & Irene Vaughan ran the post office and village shop for many years, having moved to Rosemarket from mid Wales. Upon their retirement, they moved across the road to the former New Inn public house which had been converted into a private residence. Their son, also called James (Jim) and his wife, Enid, took it over. Jim was the postmaster, with Enid assisting him. This family is believed to have been the longest serving postmasters to the village.
In the late 1960s, Jim handed over the postmaster duties to Enid when he took a job at the nearby Gulf Oil Refinery in Waterston. Mrs Barbara Summons then began working with Enid in the shop, where she stayed until her retirement in the summer of 1984.
The village post office and shop continued under new ownerships for several more years, but like all small village businesses, it became less cost-effective and was subsequently closed and converted into a private dwelling. The long-serving former postmasters, Jim and Enid Vaughan, remained in the village for the rest of their lives, moving to a house on the Beacon, which was interestingly built on a site of where a former village postal delivery man lived.
Today, Rosemarket now has just one post box, located at the bottom of Middle Street, across the road from where the village shop and post office was once located.
Rosemarket's long-serving postman is Bernard Beavan (known locally as Bernie). 2022 was Bernie's 40th year working for the Post Office, periodically serving other communities but always returning to Rosemarket. Whilst not a resident of the village, he is a well-known character and very much part of our community.