Wilfred Langdon was born William Davies on 4th June 1889 in Rosemarket. He was orphaned when just a few months old and brought up by his uncle and aunt, Evan & Elizabeth Langdon at their home in Front Street, Rosemarket. William became known as Wilfred as Mr & Mrs Langdon already had a son called William.
Being known by different names somewhat complicates the usual research techniques, but Wilfred's family has kindly granted Rosemarket Local History Society access to information and photographs that when combined with what is more widely available, help to tell his story.
The 1911 Census shows Wilfred (recorded as Wilfred Davies), aged 21, still living in Front Street with Evan & Elizabeth Langdon along with their niece, Jane Morris, aged 11. At this time, Wilfred's occupation is listed as Boilermaker. It is possible that he worked for Great Western Railway as he had completed an apprenticeship with the company in 1910 (in the name of William Davies) and his uncle, Evan Langdon, also worked for Great Western Railway, being based for a time at Neyland.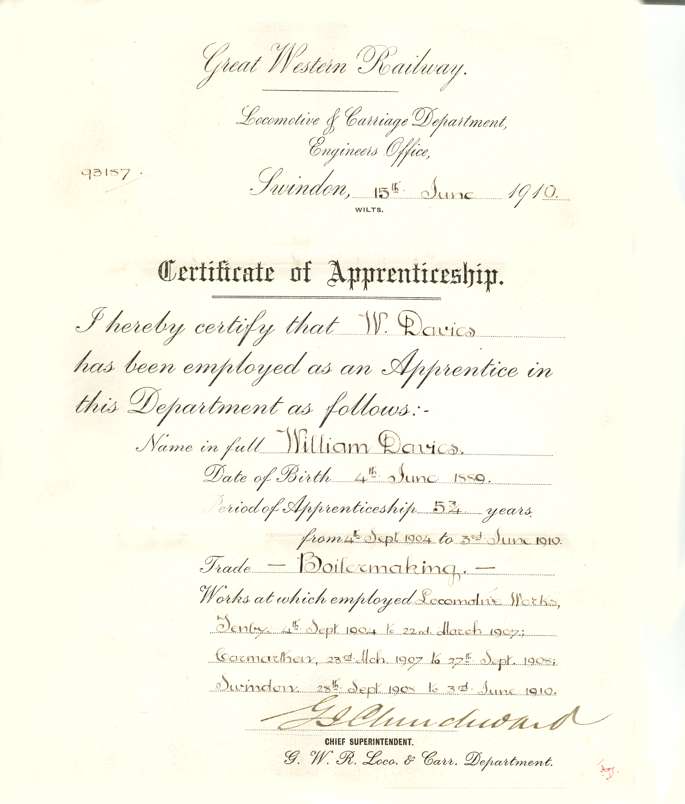 Great Western Railway, Certificate of Apprenticeship, Wilfred Langdon (also known as William Davies)
An interesting fact about Evan Landgon was uncovered during explorations for this article – that he owned the Dovecote in Rosemarket for a time, purchasing it in 1915 along with the adjoining cottage and land from the Lort Phillips' (major landowners in the area).
Military career
Wilfred enlisted with the Royal Navy on 29th January 1914, as William Davies (Service Number M7189). We have cross-checked enlistment information to confirm it is the same person. He served throughout World War One and beyond before being invalided out at the end of 1922.
Records show that Wilfred served on battleships and submarines during his career. During World War One he mostly served on HMS Lord Nelson between 1914 and 1917, before serving on at least two submarine depot ships - HMS Dolphin and HMS Platypus. After the war ended, Wilfred served on two submarines – H21 and K22. His final attachment was listed as HMS Pembroke II, a shore barracks based at Chatham, from where he was invalided out. The details of the injury or illness that led to this is listed in the records, although difficult to decipher with any certainty.
Wilfred's 'Character' was recorded as "Very Good" at each of his yearly assessments, with his 'Ability' rising from "Satisfactory" to "Superior" as the years progressed.
Wilfred's name appears on the list of returning servicemen from World War One that is displayed inside St Ismael's Church, Rosemarket. Along with the other returning servicemen, Wilfred was presented with a "Scroll of Honour", on behalf of Rosemarket parish.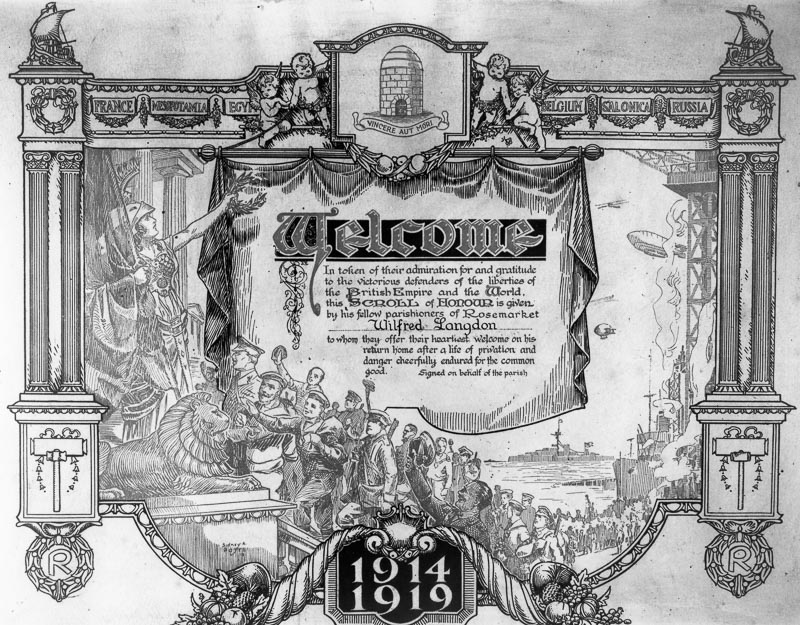 Scroll of Honour presented to Wilfred Langdon on behalf of Rosemarket parish at World War One
Family life
In October 1921, Wilfred married farmer's daughter, Mary Jane Pawlett who lived at Cross Farm, Rosemarket. The marriage was recorded in the name of William Davies and so they became Mr & Mrs Davies. Following their marriage, they moved to West Hill farm on The Ridgeway at Manorbier, which was rented from the County Council. They farmed there until their retirement before returning to Rosemarket, living in Osborne House in West Street (which was formerly known as Back Street).
A newspaper article recently found by a family member explains that Wilfred's funeral (held under his birth name, William Davies) took place in December 1958 at St Ismael's Church, Rosemarket, led by Rev. Stephens. Described as "an impressive service", Wilfred's widow was listed amongst the chief mourners, along with their son, daughter and son-in-law. Members of their extended family, friends and local dignitaries also attended, including the Mayor of Tenby, representatives of Haverfordwest Rural District Council, Rosemarket Parish Council and the British Legion branches at Tenby and Neyland.

Rosemarket Local History Society continues to work with extended members of Wilfred Langdon's family, including the Pawlett's, on their connections to the village and the farming community.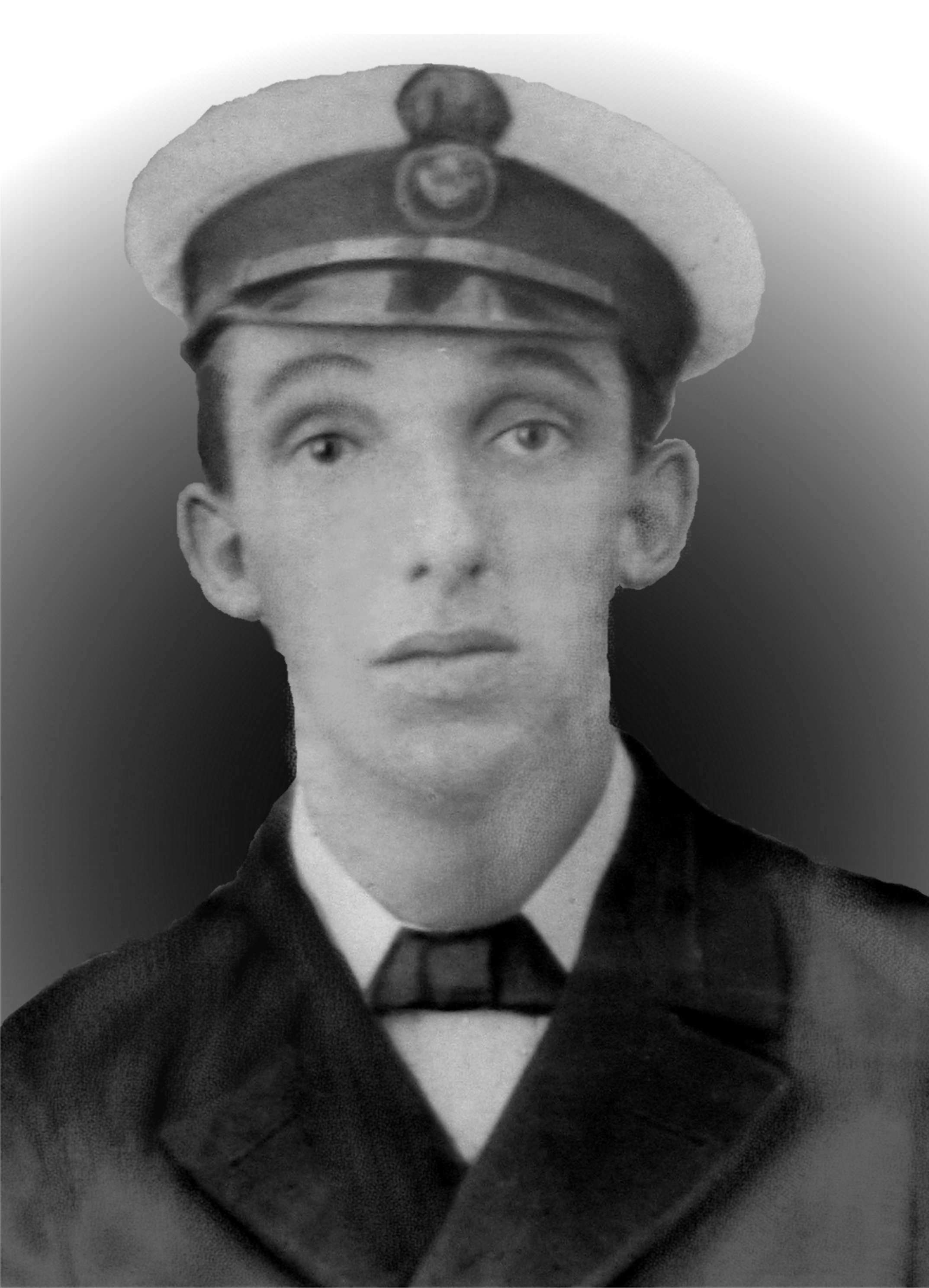 Wilfred Langdon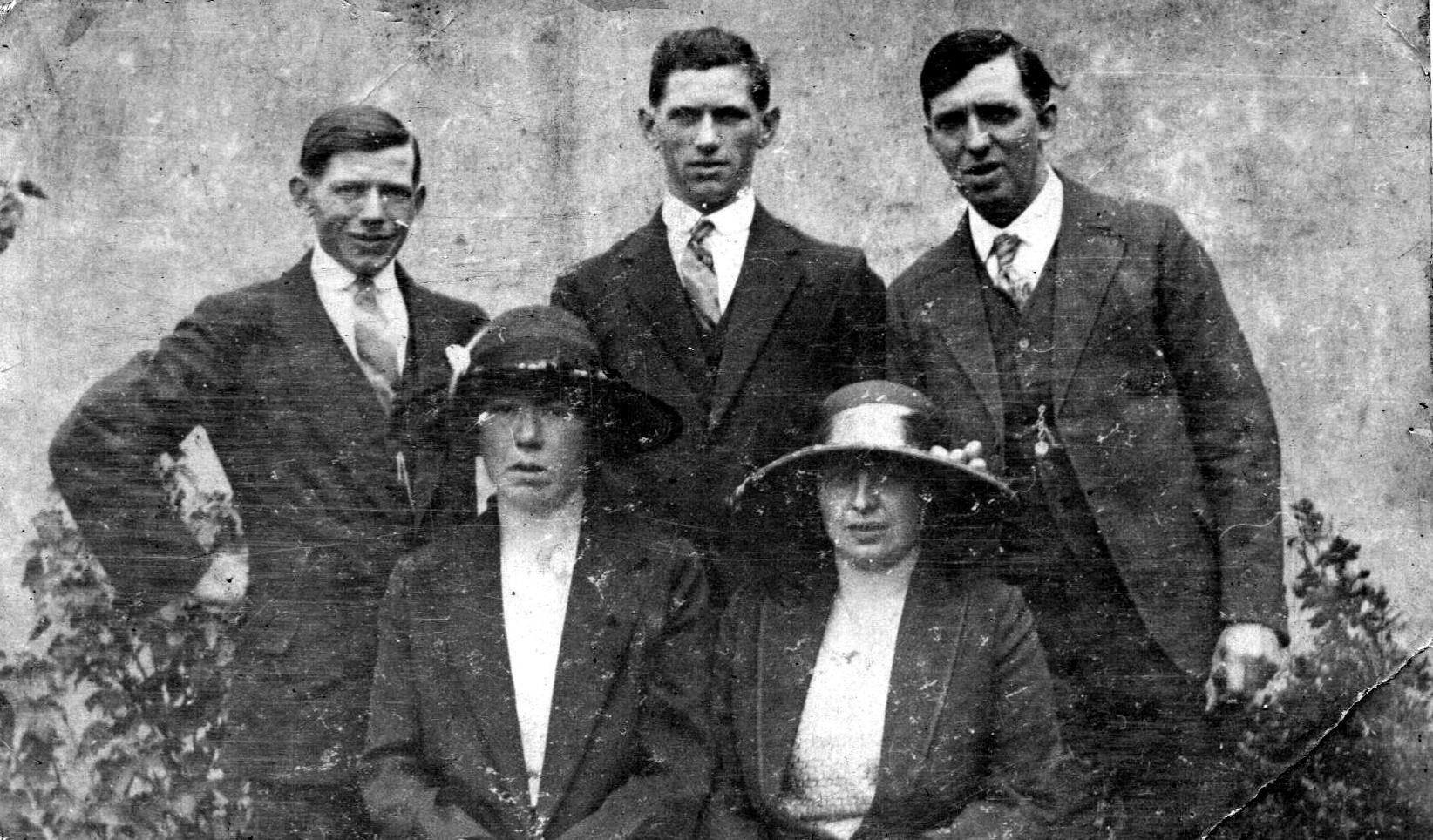 Wilfred Langdon (right), pictured with members of the Langdon family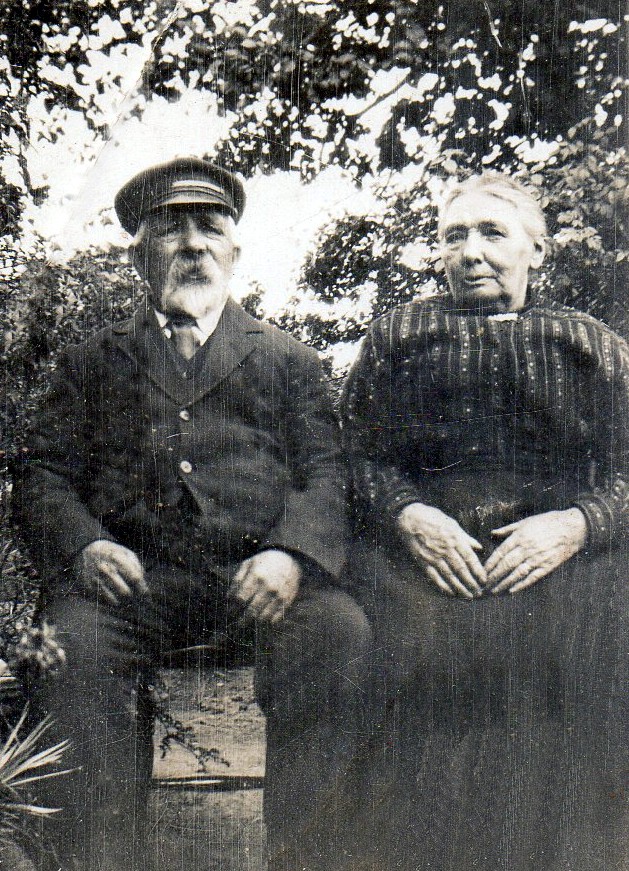 Evan and Elizabeth Langdon