Mrs Barbara Summons lived in Rosemarket for over 50 years and was very active in the community. She served on Rosemarket Community Council for many decades and in 2001, was awarded an MBE for services to the community. Barbara passed away on 23rd March 2021, aged 91 years. Her family has kindly agreed to share her story.
Barbara was born in Cambrian Road in Neyland on 20th June 1929, the daughter of Walter and Florence Watkins. She had three brothers and one sister, all of whom have predeceased her. Whilst still in her early years the family moved to Mastlebridge just outside the town and later to Honeyborough, a small hamlet to the north of Neyland, and into a terraced property there and near to the area known as the Green. She attended the local school in Neyland before leaving in her mid-teens, as indeed many children did in that era, so as to help provide much needed income for the family. The Second World War had ended, there was great austerity and these were the days before the NHS, Social Services and Welfare Benefits.
Barbara began working in local food stores and grocery shops, initially in Neyland and later in both Milford Haven and Pembroke Dock, and apart from a career break upon the birth of her son Robert, and then being at home through his formative years, she spent the rest of her working life in that retail grocery sector. All these locations where she worked were busy bustling towns in that era of course, and these were decades before the launch of supermarkets as we know them today. She very much enjoyed her work in these stores and in meeting and helping customers.
Barbara's employers at this time were the Maypole Stores who had a chain of shops in this era, and when going to work she used to catch the ferry boat from Neyland to Pembroke Dock each day and in all weathers, or else the double decker bus to Milford Haven when working at the store there. In talking about these days she recalled she and other passengers sometimes having to get off the bus at the bottom of Blackbridge Hill on the homeward journey because it was too full and didn't have sufficient power, and then all passengers walking up the hill to the empty bus which would wait for them at the top.
Barbara met her husband to be, a young Jim Summons from Rosemarket, when attending a local dance with her friends, and he had come into town with a group of friends from the village. Within weeks the young couple were dating regularly and soon became engaged. They married on the 22nd June 1950 at Llanstadwell church in Neyland and enjoyed many years of happy married life before Jim's death in 2003. Upon their marriage Barbara and Jim lived in West Street, Rosemarket, just next to Jim's parents, and it was here that she was to spend the rest of her life. The birth of their son Robert made the family complete.
Barbara loved the village of Rosemarket and its people and immersed herself fully in the various activities within the community, and continued to do so for the rest of her life. She was a committed Christian and became a regular member of St Ismael's Church in the village. She was a member of the Church Mothers Union which existed at the time; she was a Sunday School Teacher for many years; she was a Church Warden for long periods of time, she assisted with various fundraising events for the church and organised many of these throughout her lifetime. She was very much involved in a major fundraising exercise when a major refurbishment and re-roofing of the church was conducted around 1996. In more recent years, she became a regular attendee and communicant at St Clements Church in Neyland.
After moving to Rosemarket, Barbara worked in the village shop and Post Office for many years. In that time, like the church, the chapel and the school, this was one of the key hubs in the village. Almost everyone visited the shop several times a week for food and groceries, newspapers and to use the post office services. Barbara knew everyone and everyone knew her, and she was extremely popular.
Through the years, Barbara became increasingly involved in many other activities in Rosemarket, all in a voluntary capacity. She became a member of Rosemarket Community Council and had continuous membership until resigning for health reasons in 2021 and is one of its longest serving members of all time. She was a long-time member of the Village Hall Committee and it is largely thanks to her involvement that the building of a new hall is now actively being progressed. She started a successful weekly bingo evening for Rosemarket which brought people together, and similarly a regular luncheon club for senior citizens of the village. Outside of the village, she continued other voluntary work, particularly with the WRVS and provided weekly support at Withybush Hospital for many years.
This tremendous work on behalf of the village was formally recognised in 2001 when Barbara was awarded the MBE for her many years of voluntary work for the community. This is a very high honour indeed and only a handful of these awards are given across the county each year. This was an honour thoroughly deserved and she and her husband Jim proudly travelled to London and to Buckingham Palace to receive the award medal.
During her later years, Barbara became less mobile and had stopped driving in 2019. However, she still remained active within the church and the other organisations in which she was involved. Importantly her love for Rosemarket and its people never diminished. Her front door always remained open to everyone and she wanted callers to just walk in. She especially enjoyed the regular visits made to her home, the chats and the telephone contact with friends and family.
A seat dedicated to the memory of Barbara was installed on The Beacon in May 2022. The inscription reads: "True kindness lies within the act of giving without expecting anything in return".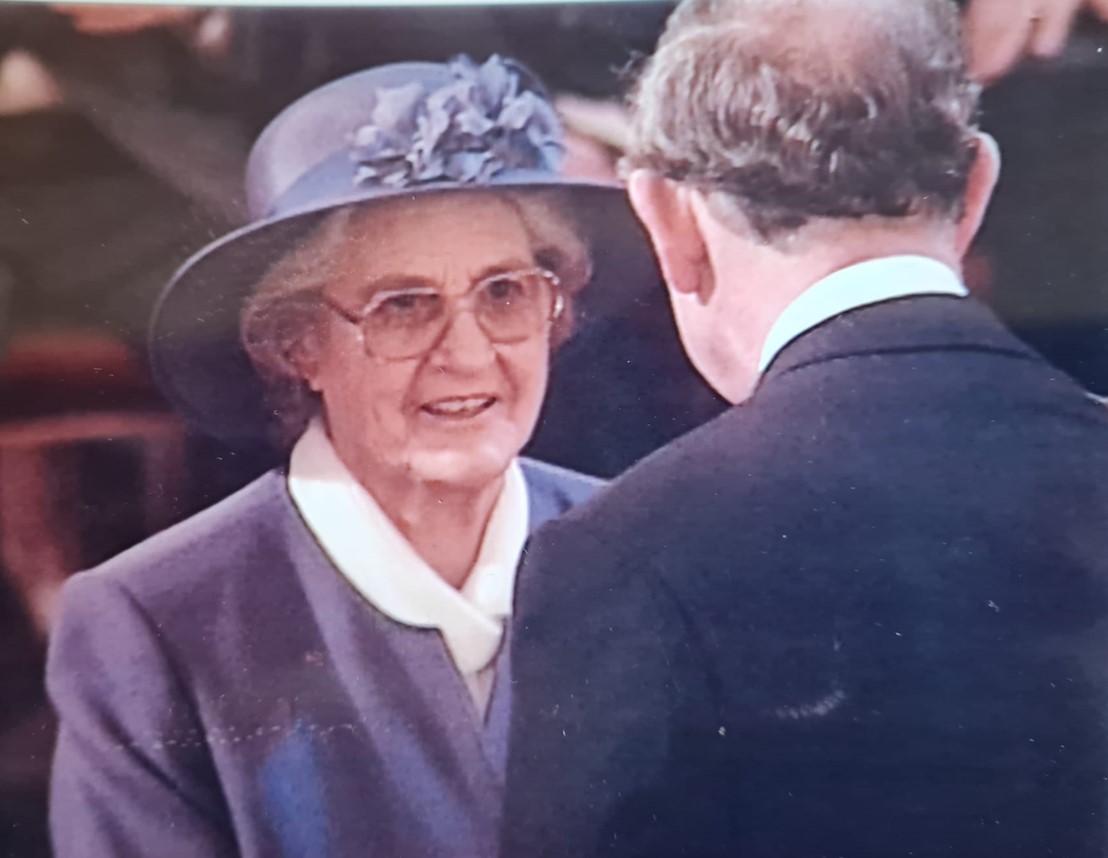 Barbara and Jim on their wedding day