In 1965, a social club opened in West Street and quickly became a major entertainment centre for many far and wide. The club was owned and run by Fred Dow (known to many as Freddie), who at the time was involved with Rosemarket Cricket Club. Fred sadly passed away in 2021, aged 94, a few years after his beloved wife, Dorothy (Dot). Working with Fred's son Phil, performers, and local residents sharing their memories, Rosemarket Local History Society is delighted to tell its story.
How it all began
In 1962, Fred Dow began working in the pub trade (managing The Kings Arms in Hakin Point, Milford Haven). He purchased a house in West Street, Rosemarket (no 2, also known as Stoneleigh and formerly The New Inn pub). He had hoped to open a pub on the site but was unable to get a licence, so instead decided to pursue the idea of a social club. Whilst not having direct experience of running this type of venue, Fred did have some experience of the local music scene as he managed 'The Rebels', a band from Milford Haven, between 1959 and 1962.
Fred purchased some land further up West Street, appointed Harold John Builders and at 12 noon on 25th August 1965, Rosemarket Social Club was opened. At some point after that (date and reason unknown), the club changed its name to Rosemarket Country Club with nightly activities and dances with a resident band. The club had a committee who oversaw its activities. In addition to Fred, committee members included Rosemarket residents.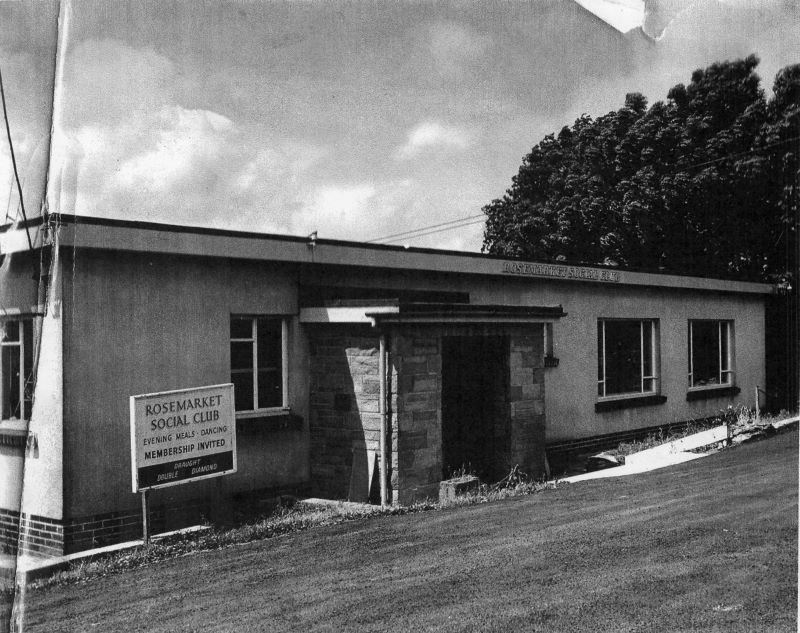 Rosemarket Social Club, 1965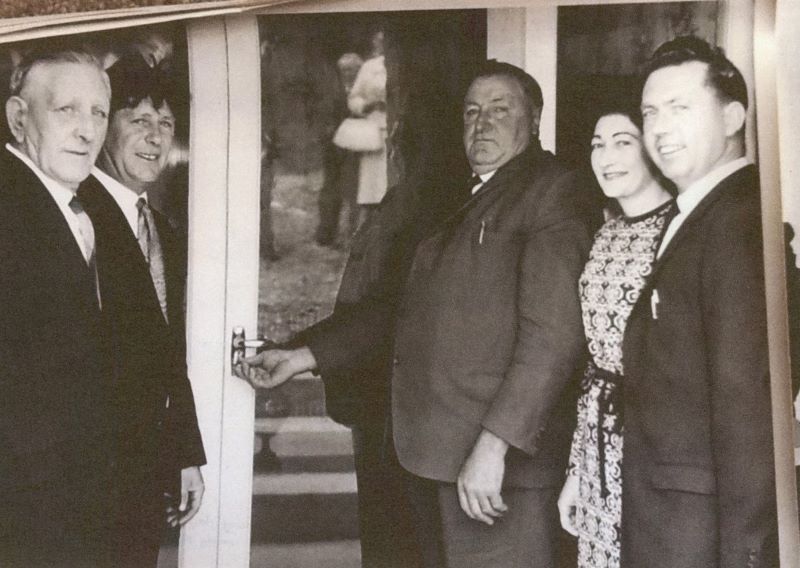 Rosemarket Social Club, Opening Day, 25th August 1965
L-R: Fred Ward (chairman Rosemarket Parish Council); Harold John (builder); Arthur Bowen (chairman Haverfordwest RDC); Dorothy (Dot) Dow; Fred Dow
The club had a membership scheme, with patrons paying an annual subscription and receiving a membership card. Rosemarket resident Ashley Warlow recalls being a member from its opening in 1965 through to its closure years later. Ashley still has his membership card from 1971/2 (photo below). Note the club's name is still Rosemarket Social Club at this time, so the change of name to Rosemarket Country Club took place after 1972.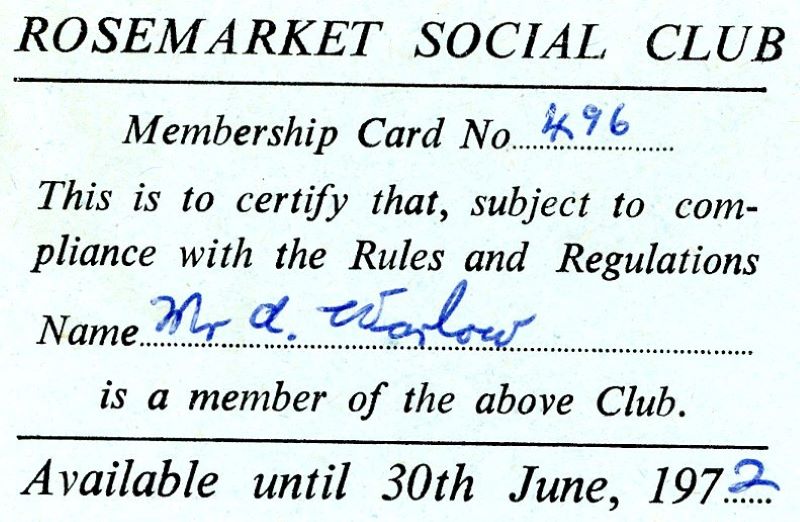 Performers & bookings
In its heyday, Rosemarket Country Club hosted many well-known national musical artistes, including Freddie & The Dreamers, Gerry & The Pacemakers, The Casuals, The Tremeloes and Helen Shapiro. Records also show that Ricky Valence, Audrey Squires, Billy Fury, The Swinging Blue Jeans, Leapy Lee, The Searchers and Billy J Kramer performed at the club. Simon Williams (of Upstairs Downstairs fame) is also listed as having performed at the club in March 1976.
Comic and variety acts including Barry St Ives and Johnny Cox, also performed at the club, along with some more unusual acts. One such act was 'Tinkerbell', a topless dancer who performed with a snake! She was booked as part of 'Graham Price's Sunday Disco' in the late 1970s.
People travelled from far and wide to attend functions and events, and many met their future husband or wife for the first time in dances at the club.
Wednesday nights during the mid-1970s saw regular bookings for 'The Buffs' - RAOB Old Warrior lodge. The Royal Antediluvian Order of Buffaloes (RAOB) is one of the largest fraternal movements in the UK.
The club also played host to a vast array of other events and activities including talent contests, darts tournaments and theme nights such as Easter bonnet parade, fancy dress, country & western. Fred's family also recall Candle Light dinner evenings. In the latter years, Rosemarket School held their Christmas parties there.

Community
Rosemarket Country Club was very much part of the village community employing residents of the village and playing host to some of them. Ron & Pat Perkins lived at 8 Front Street, known as Perth Cottage at the time, although many referred to it as the bake house as there had been a bakery there years earlier. Ron & Pat worked at the club for some time, preparing the food. Ron often sang in the club and went on to form 'Tony's Trio', playing at the club as well as other venues throughout Pembrokeshire. Ron & Pat's daughter, Gillian, married Charles Cooper, whose own band at the time, the 'Roadrunners', also played at the club.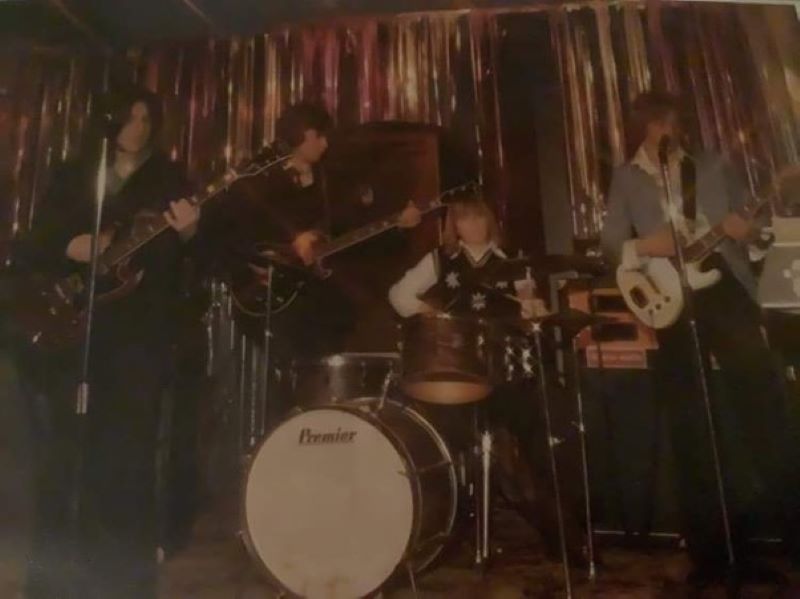 Roadrunners performing at Rosemarket Country Club, March 1976
The 'Roadrunners' almost featured on the television talent show, New Faces – travelling to Bristol for their audition. Charles recalls the experience: "We went full of optimism and we set in one of the many alcoves around the club which was full of other acts. Everyone was dressed in glittery suits and dolled-up to nines and we looked like we had been dragged through a hedge backwards". Whilst they didn't make the television show itself, it was clearly an experience.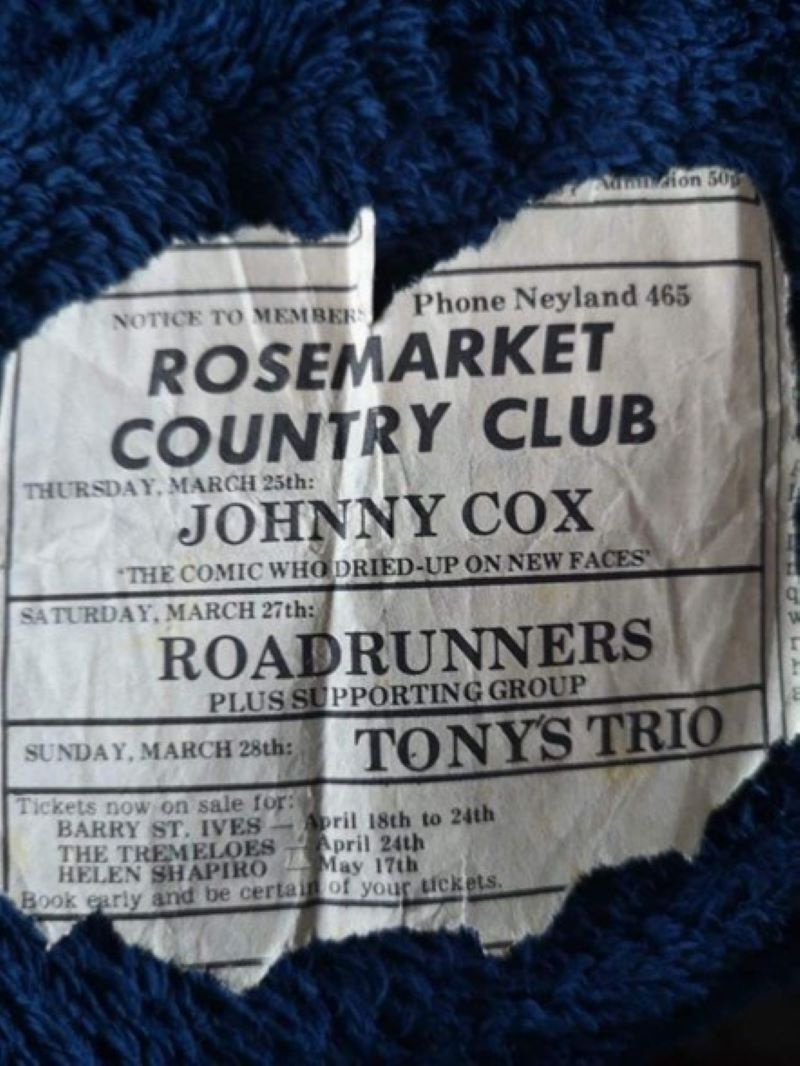 Advertising Rosemarket Country Club, Western Telegraph, March 1976
Today, two of the band's original members, Charles (vocals) and Steven Haywood (drums) now form part of Pembrokeshire-based band, 'Reality Cheque'. They performed at The Huntsman pub in the village during Rosemarket's events to commemorate the Coronation of King Charles III, on 6th May 2023.
End of an era
Around 1978, Fred Dow stepped-back from running the club. He rented it to Nigel Evans from Llangwm, who changed its name to 'The Nightspot' and ran it for a short time, the arrangement ending following a financial dispute. The building then lay empty before Fred Dow rejuvenated the club, re-opening it as 'Freddie's' in 1980.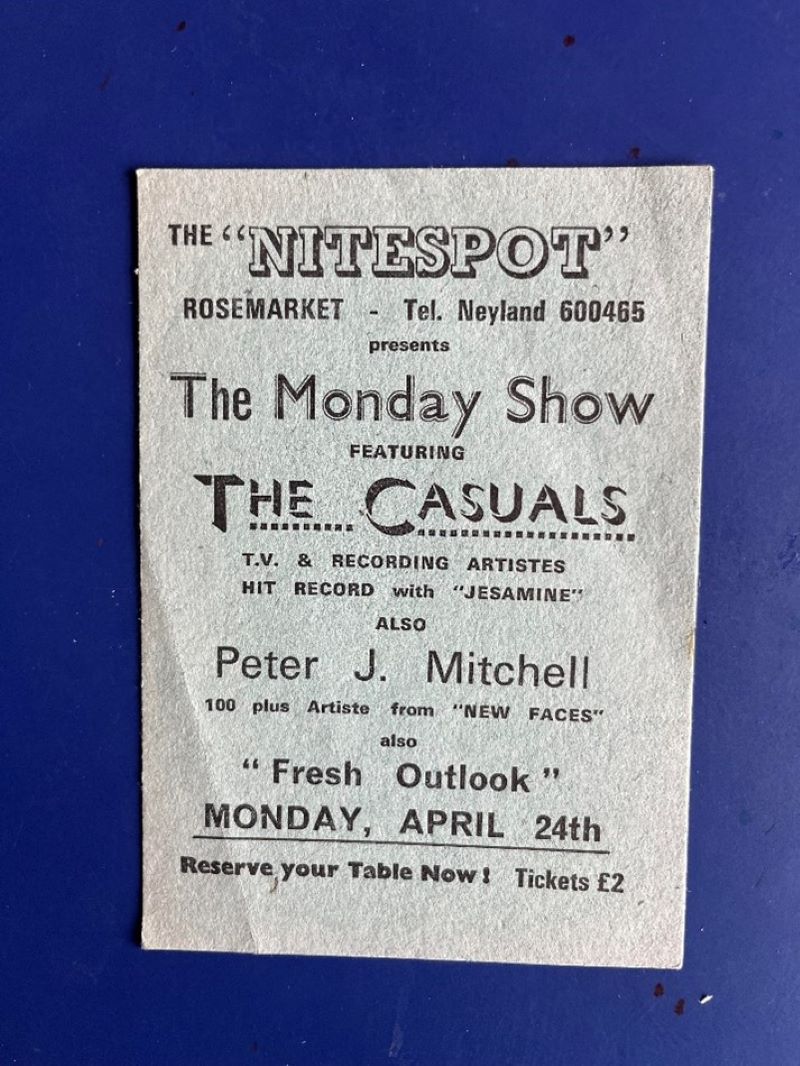 The Nitespot, Rosemarket, c1979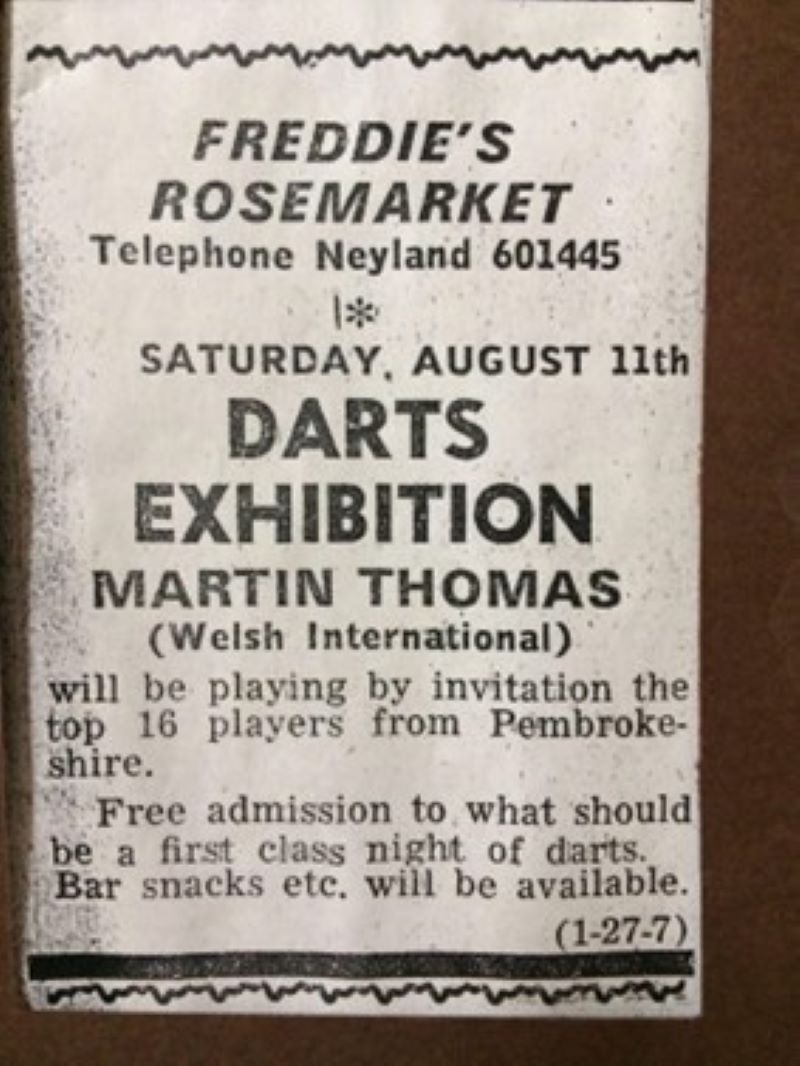 Freddie's, Rosemarket, early-1980s
In 1981, an extension was added to the building, and it remained a popular venue until it closed its doors for the final time around 1985.  
Fred sold the club to Haverfordwest entrepreneur Alfred Squelch, better known as Abby, but sometime later, it was destroyed by fire. The land was then sold to a developer and eventually four houses were built on the site, known today as Ash Court.
Fred and his family remained very much involved in the village, with Fred serving on Rosemarket Community Council, with some of that time as its Chairman. Fred's son Phil continued the association with Rosemarket Cricket Club, by becoming one of their players.
That reminds me….
On 27th September 2012, The Milford Mercury newspaper featured Fred Dow and the "Rosemarket Club" in their 'That reminds me' series. Fred was interviewed for the article which also included recollections from those who visited, as well as some photos from the time.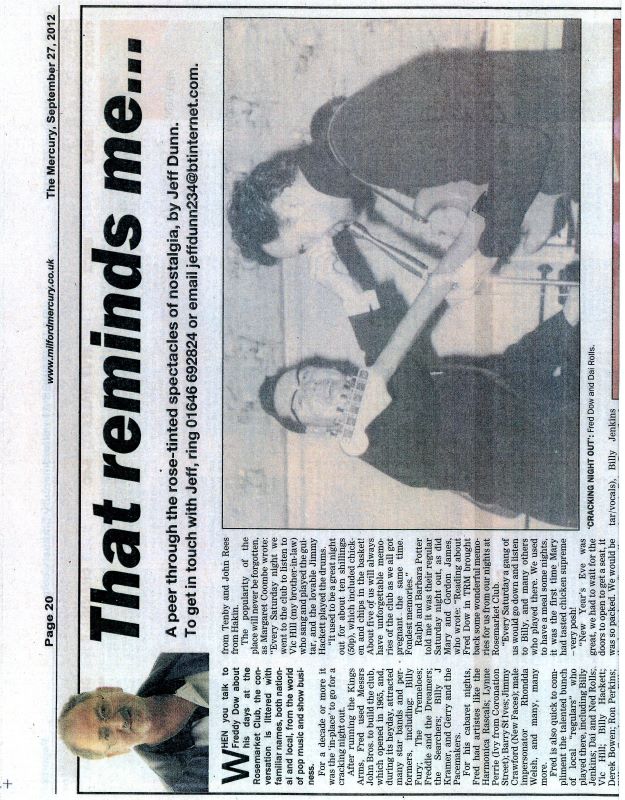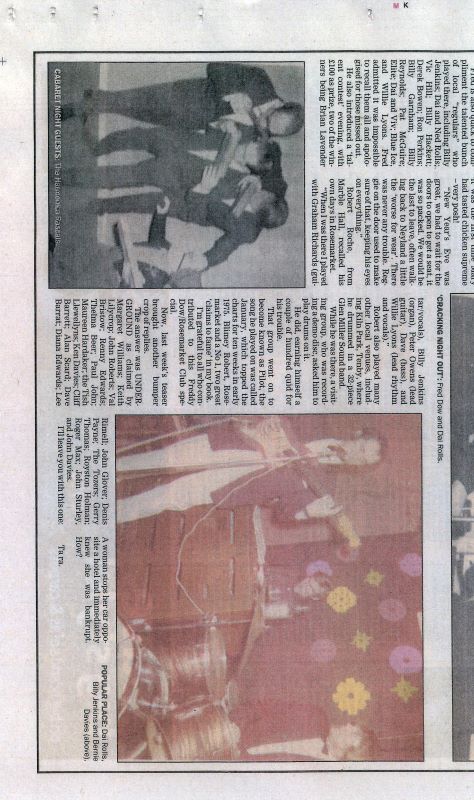 A few weeks after the article was published, the newspaper was contacted by the daughter of the previous owner of Fred's original house in Rosemarket, (2 West Street, also known as Stoneleigh), sharing some poignant memories of how that house came to be sold to Fred. Her letter was featured in The West Wales Mercury on 4th October 2012 and is re-produced below:
"I read with a lot of interest your article about the Rosemarket Club, it's unbelievable to think that the club would not have been built in the particular location at all, if my own life had not been changed dramatically in the early 1960s. My mother was a lovely, fun-loving, strong but impulsive woman. She was only 46 and could twist my father around her little finger. One day she decided that she fancied living in the country, buying a small holding no less. We were living in Gwili Road at the time, so it came as a bit of a surprise.
My brother had been poorly, so she decided that the fresh air would be 'just the job' for him, and we moved to a big old house in Rosemarket, named Stoneleigh, with several acres of land included in the sale. I was only 15 years old at the time.
Sadly, her dream was not to be, we had been living at Rosemarket for just six weeks when my mother had a heart attack and died. The shock was something I have never really recovered from. After a while, my father sold the house to a Mrs Phillips, and the land with it, and returned to Milford. Stoneleigh was sold again after that, to Mr Fred Dow, at least I think I'm correct. So, if that tragic event hadn't occurred, I'm sure we'd never have left".
Rosemarket Local History Society would like to thank Phil Dow, Charles Cooper, Pembrokeshire Archives and everyone involved in putting this article together.
If you have any memories or photos of the club that you'd like to share, please get in touch.